Burl Cole has been doing boat wraps in Florida for nearly 20 years with his business boatwraps.com. In 2016 Burl contacted us to arrange a boat wrap from the Marine Graphics Ink collection.
Since then, we have been working to bring our boat wrap illustrations to the US market.
'Nick is the best marine artist around. Burl and I are big fans of his work, and we see the quality of his work as brilliant' said Andre Teixeria, project manager at boatwraps.com
Based on feedback from the guys in the US, we have been able to add to the range to include designs that will appeal specifically to the US boat owner. 
'The feedback received from clients on Nick's work is very positive', said Andre. 'After showing his artwork to potential clients, it is easy to promote and sell the Marine Graphics Ink collection here.'
How does boatwraps.com work with Marine Graphics Ink?
''All requests from clients with marine-related themes are forwarded to Nick. He is a straightforward person to work with. Once the job comes in, Nick takes off from there. We prefer to have the client dealing directly with the artist so that no information gets lost in transition.'
Boat wrapping in Florida
Get in touch with Boatwraps.com and request MGI designs
Nick will work directly with you to refine your design or produce a custom illustration.
Upon signing off the proof, Boatwraps.com will print the wrap.
Andre and Burl will arrange for the installation of the warp at a time and place convenient for you.
'Another very positive aspect is that Nick is very quick. So if the client is willing to provide feedback quickly, we can execute a project within a couple of weeks' said Andre.
We have produced a catalogue for the guys in the US with our current boat wrap collection. The catalogue further streamlines the process. Follow this link for the Boarwraps.com collection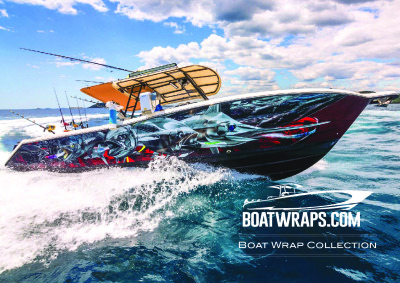 Working highlights
The Fort Lauderdale International Boat Show
After years of working together, it was the first time we had met face to face. It was great to see our boat wraps floating around at the Fort Lauderdale International Boat Show.
Talking to the guys on the ground about what they saw as the future of wraps in the US was beneficial and helped us shape the next few year's US collections. We also got to see them in action with a display boat wrapped each day of the show.
We had a display boat from Boathouse Marine Centre wrapped in onsight over 4 days of the boat show. Display wrapping allowed the boat show visitors to see the boat wrapping process and discuss potential projects.
Starboard yacht group
Starboard Yacht Group were very engaged in the design process. As a result, we are proud of this wrap; the final installation created a blow-away finish.
Starboard Yacht Group team work on revolutionary yacht refits and upgrades. They came to us through boatwraps.com looking for a wrap for their 2000 Everglades 350lx display boat.

They had several alterations from the original design wrap and were blown away by the final design. As a result, they are heading back for a new display boat wrap in 2022.
tuna boat wrap in Florida for a private client
The client was looking for something unique and gave us an open brief, a tuna boat wrap. We worked with various options over a few reviews to develop this version of Barrel Fever. The design was so well received that it joined our boat wrap collection.
Working with boatwraps.com
The easy working relationship between us stands out the most from our perspective at Marine Graphics Ink. We always enjoy hearing from Burl and the team and know that the work will run smoothly.
The team are also happy to travel. We have had work printed in Florida, and the guys flew out to New York, the Turks and Caicos Islands, and other islands throughout the Caribbean for installation.
Below are just a few
If you are looking for boat wraps in Florida or elsewhere in the US, go to boatwraps.com to get a quote. Or call the team on 954-500-2628. If you are in Australia or elsewhere in the world, contact Marine Graphics Ink on +61 432 499 492.